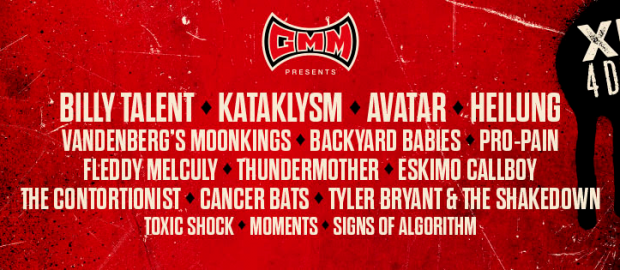 Znamy pełny skład belgijskiego festiwalu Graspop Metal Meeting. Wśród zespołów, które dołączyły do rozpiski są między innymi Billy Talent, Kataklysm, Backyard Babies, Pro-Pain i Vanderberg's Moonkings. Kilka zespołów pojawi się w ramach partnerstwa z Red Bull Music. 
Już przed ogłoszeniem dodatkowych zespołów, tegoroczna edycja Graspop Metal Meeting jawiła się jako jedna z najciekawszych propozycji festiwalowych w Europie. Gwiazdami specjalnej, czterodniowej imprezy będą Guns 'N Roses, Iron Maiden, Judas Priest i Volbeat. Oczywiście, na kilku scenach podczas każdego dnia imprezy wystąpi kilkadziesiąt innych interesujących kapel.
Rozpiska czasowa festiwalu nie została jeszcze podana do wiadomości publicznej, niemniej jednak organizator opublikował zestawienie zespołów, jakie wystąpią w poszczególnych dniach imprezy. Możecie je obejrzeć poniżej.
Czwartek, 21 czerwca: Black Stone Cherry, Bury Tomorrow, Cancer Bats, Doro Pesch – the voice of WARLOCK, Fleddy Melculy, Follow The Cipher, Ghost, Guns N' Roses, Heilung, Iced Earth, Jonathan Davis, Kataklysm, Madball, Moments (prezentowany przez Red Bull Music), Signs Of Algorithm (prezentowany przez Red Bull Music), The Pink Slips, Toxic Shock (prezentowany przez Red Bull Music).
Piątek, 22 czerwca: Akercocke, Anti-Flag, Arkona, Avatar, Avenged Sevenfold, Ayreon, Carach Angren, Culture Abuse, Diablo Blvd, Dool, Galactic Empire, Hollywood Undead, In This Moment, Iron Maiden, Killswitch Engage, L7, Less Than Jake, Neurosis, Parkway Drive, Pist*On, Powerwolf, Savage Messiah, Septicflesh, Shinedown, Silverstein, Stick To Your Guns, The Darkness, Tremonti, Tyler Bryant & The Shakedown, Vader, Watain, Wolves In The Throne Room, Zeal & Ardor.
Sobota, 23 czerwca: Accept, Amaranthe, Arch Enemy, Asking Alexandria, Asphyx, At The Gates, Backyard Babies, Baroness, Batushka, Bloodbath, Bölzer, Boston Manor, Crossfaith, Exodus, Kadavar, Kreator, Marduk, Marilyn Manson, Megadeth, Miss May I, P.O.D., Planet Of Zeus, Rise Against, Seether, Skillet, Sons Of Apollo, Stone Broken, Stray From The Path, The Vintage Caravan, Thundermother, Underoath, Vixen, Volbeat.
Niedziela, 24 czerwca: A Perfect Cirle, Billy Talent, Blessthefall, Body Count Feat. Ice-T, Bullet For My Valentine, Carnivore A.D., Corrosion Of Conformity, Dead Cross, Ego Kill Talent, Eisbrecher, Emmure, Employed To Serve, Eskimo Callboy, Hollywood Vampires, Judas Priest, Knocked Loose, Lacuna Coil, Limp Bizkit, Mantar, Meshuggah, Modern Life Is War, Ozzy Osbourne, Perturbator, Powerflo, Pro-Pain, Shining, Tesseract, The Bloody Beetroots Live, The Contortionist, Thy Art Is Murder, Tyr, Vandenberg's Moonkings.
Jak widać z powyższego zestawienia, nudy nie będzie. Dlatego też bilety sprzedają się jak ciepłe bułeczki, a karnety na całość imprezy są już prawie wyprzedane. Nadal można kupić za to bilety na pojedyncze dni, w ceniu od 89 do 99 euro.
Graspop Metal Meeting 2018 odbędzie się w dniach 21 – 24 czerwca 2018 roku w belgijskim Dessel. Więcej informacji oraz bilety znajdują się na stronie https://www.graspop.be/en/